(BPT) – At a time when the strength of the U.S. economy and personal finance is on most renters' minds, low down payment mortgage options are more appealing than ever. With mortgage interest rates being at historic lows, it is possible to qualify for a home loan while keeping a rainy day fund.
Private mortgage insurance (MI) has been around for decades and helped over 1.3 million homebuyers last year. It is a temporary cost that allows for a down payment as small as 3% of the purchase price. While some borrowers wait until they save 20% for a down payment, the added years of saving can translate to higher interest rates and more expensive home prices.
"Renters who are on the hunt to buy should do the math and consider what is best for them, because many times they will find that buying with a low down payment insured mortgage is in their best interest. It may enable them to attain homeownership sooner than they otherwise could, which helps them take advantage of historic low rates and keep some of their savings intact," said Lindsey Johnson, President of U.S. Mortgage Insurers (USMI).
If you are one of these renters looking to buy your first home but don't have 20% down, don't worry, you are not alone. According to the National Association of Realtors, the median down payment in 2019 was 6% for first-time buyers.
It is true you can qualify for a conventional mortgage with a down payment as small as 3% of the purchase price. In today's market, it could take a family earning the national median income up to 21 years to save 20%, according to calculations by USMI.
How can buying now save you money later?
Consider you want to purchase a $275,000 home. When you account for closing costs (about 3% of the sales price), a 5% down payment is $13,750 versus $63,250 in cash for 20% down. With a 740 credit score at today's MI rates, your monthly MI payment would be about $115, which is added to your monthly mortgage payment until the MI can be cancelled. MI typically cancels after five years.
With home price appreciation, today's $275,000 home will likely cost more in the years ahead. This will also have an impact on the necessary down payment and length of time required to save for it. There are other variables in the equation too, such as interest rates. As interest rates rise, so too will the cost of mortgage financing.
Not all MI is the same. Importantly, so-called "FHA Loans" are government-backed loans insured by the Federal Housing Administration versus a private insurer. These mortgages require a slightly higher down payment, the insurance is permanent, and the monthly premiums generally cannot be cancelled.
Make sure you do the math. There are many online mortgage calculators that can help. Check out lowdownpaymentfacts.org to learn more.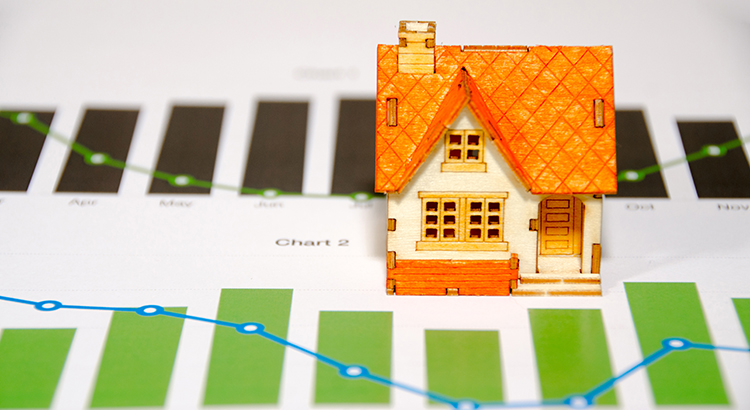 Pending Home Sales increased by 44.3% in May, registering the highest month-over-month gain in the index since the National Association of Realtors (NAR) started tracking this metric in January 2001. So, what exactly are pending home sales, and why is this rebound so important?
According to NAR, the Pending Home Sales Index (PHS) is:
"A leading indicator of housing activity, measures housing contract activity, and is based on signed real estate contracts for existing single-family homes, condos, and co-ops. Because a home goes under contract a month or two before it is sold, the Pending Home Sales Index generally leads Existing-Home Sales by a month or two."
In real estate, pending home sales is a key indicator in determining the strength of the housing market. As mentioned before, it measures how many existing homes went into contract in a specific month. When a buyer goes through the steps to purchase a home, the final one is the closing. On average, that happens about two months after the contract is signed, depending on how fast or slow the process takes in each state.
Why is this rebound important?
With the COVID-19 pandemic and a shutdown of the economy, we saw a steep two-month decline in the number of houses that went into contract. In May, however, that number increased dramatically (See graph below):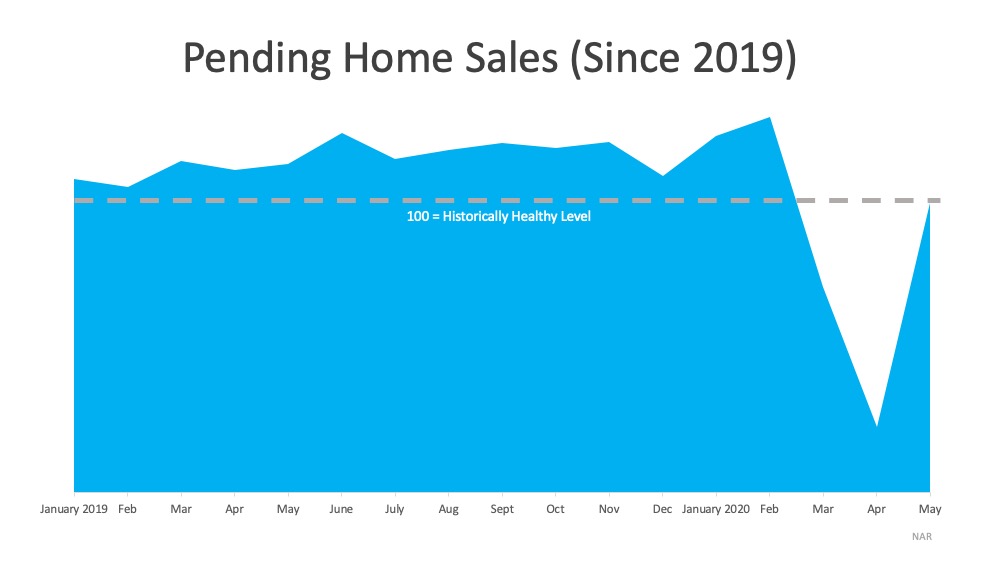 This jump means buyers are back in the market and purchasing homes right now. Lawrence Yun, Chief Economist at NAR mentioned:
"This has been a spectacular recovery for contract signings and goes to show the resiliency of American consumers and their evergreen desire for homeownership…This bounce back also speaks to how the housing sector could lead the way for a broader economic recovery."
But in order to continue with this trend, we need more houses for sale on the market. Yun continues to say:
"More listings are continuously appearing as the economy reopens, helping with inventory choices…Still, more home construction is needed to counter the persistent underproduction of homes over the past decade."
As we move through the year, we'll see an increase in the number of houses being built. This will help combat a small portion of the inventory deficit. The lack of overall inventory, however, is still a challenge, and it is creating an opportunity for homeowners who are ready to sell. As the graph below shows, during the last 12 months, the supply of homes for sale has been decreasing year-over-year and is not keeping up with the demand from homebuyers.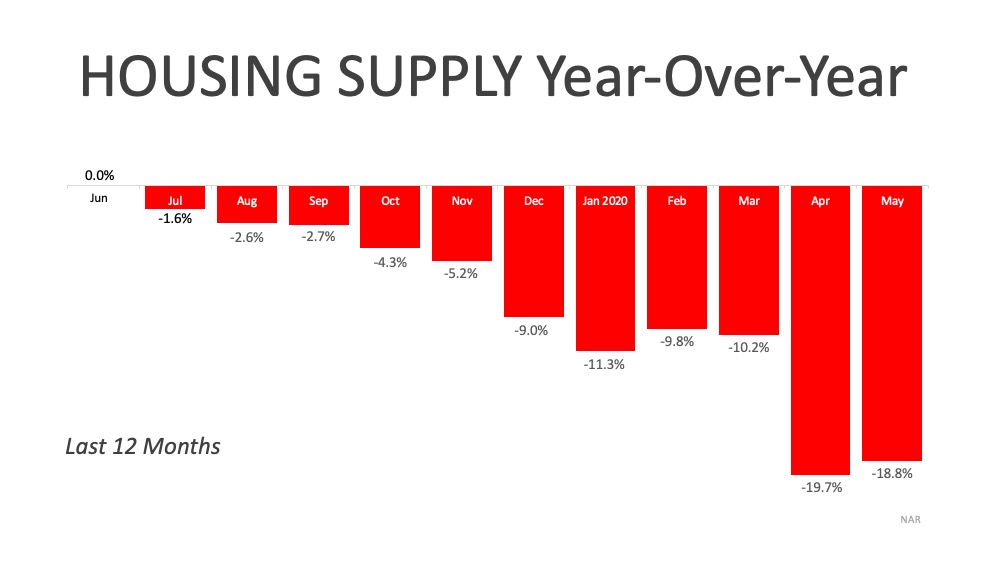 Bottom Line
If you decided not to sell this spring due to the health crisis, maybe it's time to jump back into the market while buyers are actively looking for homes. Let's connect today to determine your best move forward.